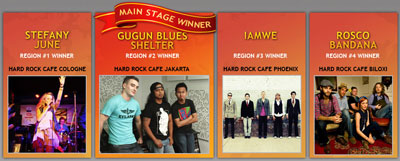 Gugun Blues Shelter
akhirnya akan mencetak sejarah sebagai band Indonesia sekaligus Asia Tenggara pertama yang tampil di panggung utama (main stage) salah satu festival musik internasional terbesar di dunia.
Rencananya Gugun Blues Shelter akan tampil sepanggung dengan
Bon Jovi
, The Killers, Rod Stewart, Adam Ant, Stevie Nicks dan sebagainya di festival Hard Rock Calling 2011 yang akan digelar di Hyde Park, London mulai tanggal 24 – 26 Juni 2011.
Hingga berita ini diturunkan, belum diraih informasi
Gugun Blues Shelter
akan tampil di tanggal berapa dari ketiga hari diselenggarakannya festival tersebut. Pihak manajemen mereka masih menunggu arahan dari pihak Hard Rock International selaku promotor festival tersebut.
Setelah melalui online voting terakhir Gugun Blues Shelter akhirnya berhasil menyingkirkan tiga artis kompetitor mereka lainnya asal Eropa dan AS, yaitu Stefany June (Hard Rock Caf Cologne, Jerman), Iamwe (Hard Rock Caf Phoenix, AS) dan Rosco Bandana (Hard Rock Caf Biloxi, AS).
"Kami bangga sekali akhirnya bisa tampil di London, sudah saatnya orang sana tahu kualitas musisi Indonesia di pentas internasional," ujar Jono alias Jonathan Armstrong, bassist Gugun Blues Shelter yang sekaligus Warga Negara Inggris saat ditemui di Rolling Stone Caf semalam.
Kebetulan pengumuman tentang terpilihnya Gugun Blues Shelter sebagai salah satu artis yang tampil di main stage tersebut keluar hanya beberapa menit sebelum mereka tampil sebagai headliner Rolling Stone Release Party edisi ulangtahun pada Jumat (6/5) malam kemarin.
"Terima kasih banyak atas dukungan kalian semua yang telah melakukan voting secara online hingga akhirnya kami terpilih untuk tampil di panggung utama di Hyde Park nanti, sekali lagi terima kasih," ujar Gugun,frontman Gugun Blues Shelter saat tampil semalam.
"Musisi Indonesia secara resmi kini telah merambah panggung global dan kami sangat bangga untuk menjadi bagian dari sejarah ini. Terima kasih atas semua dukungan Anda dalam ajang Hard Rock Battle Of The Bands, suara Anda telah ikut mengantarkan Gugun Blues Shelter menjadi juara pertama," jelas Fonnyta Amran, Sales & Marketing Manager Hard Rock Caf Jakarta.
Festival Hard Rock Calling 2011 yang digelar tahun ini terbilang istimewa karena bertepatan dengan perayaan 40 Tahun eksistensi Hard Rock Caf.
Festival tersebut telah menjadi kalender musik tahunan terpenting di Inggris dalam kurun waktu 5 tahun terakhir ini yang disaksikan sedikitnya 200 ribu penonton setiap tahunnya.
Artis-artis papan atas duia yang pernah tampil di sini sebelumnya antara lain adalah Aerosmith, Eric Clapton, Neil Young, Paul McCartney, Stevie Wonder, The Who, Pearl Jam, Bruce Springsteen hingga The Police. -
detikhot.com